The purpose of Validator Views is to provide updates and information regarding proof of stake chain progress, timelines, and more.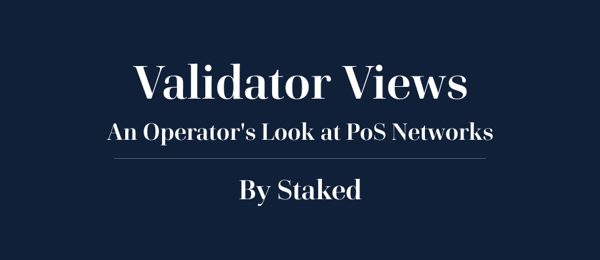 Kyber Network Update - July 7, 2020
The Kyber Network Katalyst Protocol upgrade and KyberDAO are both now live. With this upgrade,

KNC holders can now stake their tokens on the

KyberDAO

and govern the protocol by voting on important proposals and parameters, while earning rewards (in ETH) for their efforts. KNC holders can delegate the power to vote to Kyber Network stake pools.

KNC holders who want to stake their tokens, but don't have the time to participate regularly in voting in every epoch can delegate their voting power to a 3rd-party 'pool' operator to vote on their behalf. Staked operates a non-custodial pool to make this process easy.

Currently, 65% of the exchange fees will be allocated to voting rewards, 30% to reserve rebates and 5% to KNC burning. KNC holders will be responsible for voting on the fee allocation parameters going forward.
Please contact a Staked representative to learn more about Kyber Network staking!
---

About Staked
Staked helps institutional investors reliably and securely compound their crypto by 5% — 100% annually through staking and lending. Staked runs validation nodes for proof-of-stake currencies and offers access to on- and off-chain lending options that provide an annualized yield of in-kind currency. Staked's investors include Pantera Capital, Digital Currency Group, Coinbase Ventures, Winklevoss Capital, ParaFi Capital, Fabric Ventures, Global Brain, and other leading crypto investors.