The purpose of Validator Views is to provide updates and information regarding proof of stake chain progress, timelines, and more.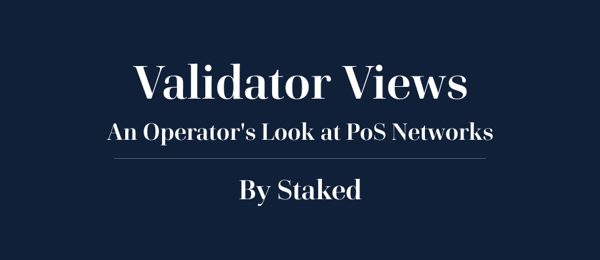 ETH 2.0 Update - March 26, 2020
The Least Authority team recently completed an audit of the Ethereum 2.0 specifications. The audit identified seven issues and made three best practice suggestions. Furthermore, the audit highlighted two areas that would benefit from further review and additional documentation: the Peer-to-peer (P2P) networking layer and the ENR system. Read the full audit report here. It is now time for multi-client testnets and the Phase 0 bug bounty program!
The first ETH 2.0 testnet slashing of an external validator recently occurred. The slashing was caused by a GCP instance migration, as two validators were validating behind the same key. View the slashing in the block explorer here.
We often perform a variety of negative testing and fuzzing to characterize the operational behavior of new chains. Recently, we *intentionally*

slashed one of our ETH 2 validators. To learn more about how Staked protects against double signing, read

this blog post

from our CEO.
Please contact a Staked representative to learn more about staking ETH!
---

About Staked
Staked helps institutional investors reliably and securely compound their crypto by 5% — 100% annually through staking and lending. Staked runs validation nodes for proof-of-stake currencies and offers access to on- and off-chain lending options that provide an annualized yield of in-kind currency. Staked's investors include Pantera Capital, Digital Currency Group, Coinbase Ventures, Winklevoss Capital, ParaFi Capital, Fabric Ventures, Global Brain, and other leading crypto investors.