The purpose of Validator Views is to provide updates and information regarding proof of stake chain progress, timelines, and more.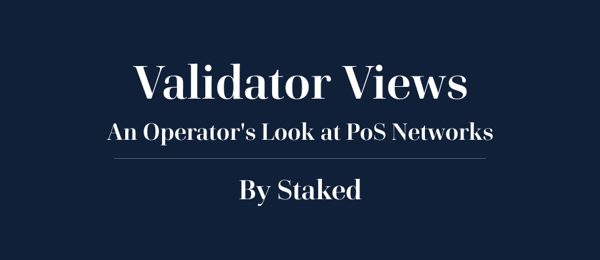 ETH 2.0 Update - April 7, 2020
Prysmatic Labs will be re-starting the Sapphire testnet during the week of 04/06/20 to match the latest specification for ETH2, with no further consensus breaking changes.

The new version of the testnet, v0.11.1, will serve as the multi-client testnet target.

Once this multi-client testnet is stable, Prysmatic, Lighthouse and Teku (fka Artemis from the Pegasys team) will be coordinating a restart of the v0.11.1 testnet from genesis to simulate a mainnet launch.

The ETH2 beacon chain mainnet is expected to launch in ~ July 2020, or 2 - 3 months after the multi-client testnet launch in April 2020.
Please contact a Staked representative to learn more about staking ETH!
---

About Staked
Staked helps institutional investors reliably and securely compound their crypto by 5% — 100% annually through staking and lending. Staked runs validation nodes for proof-of-stake currencies and offers access to on- and off-chain lending options that provide an annualized yield of in-kind currency. Staked's investors include Pantera Capital, Digital Currency Group, Coinbase Ventures, Winklevoss Capital, ParaFi Capital, Fabric Ventures, Global Brain, and other leading crypto investors.