Posted by
Staked
on May 18, 2020 11:09:22 AM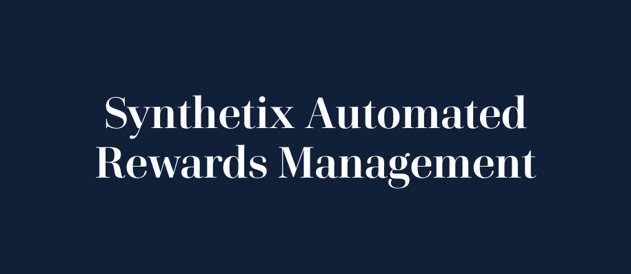 SNX stakers earn inflation funded SNX rewards for staking and transaction fees in sUSD from the Synthetix exchange. However, rewards expire if they aren't claimed manually during the claimable period. And in order to collect rewards, stakers need to maintain a target collateral ratio (c-ratio) by managing their debt balance.
Today, Staked is launching a delegation service that automates the entire process of reward claiming, re-staking and c-ratio management. Using the recently deployed SIP 10 for Upgraded Delegate Powers, the delegation service automatically claims staking rewards, re-stakes to maximize compounding, and issues or burns debt to ensure c-ratios remain above the target.
The entire rewards and c-ratio management process is non-custodial. All rewards are claimed directly to the delegator's address. sUSD debt can only be issued or burned to maintain the target c-ratio. Additionally, delegation provides SNX stakers with a better security model since they won't need to connect online anymore to claim rewards or adjust the c-ratio, and SNX funds can remain in cold storage.
To delegate rewards management to Staked, please visit the Synthetix Delegation Dashboard.
Using the Synthetix Delegation Dashboard
1. Visit Staked's Synthetix Delegation Dashboard and connect a wallet with your SNX hodlings.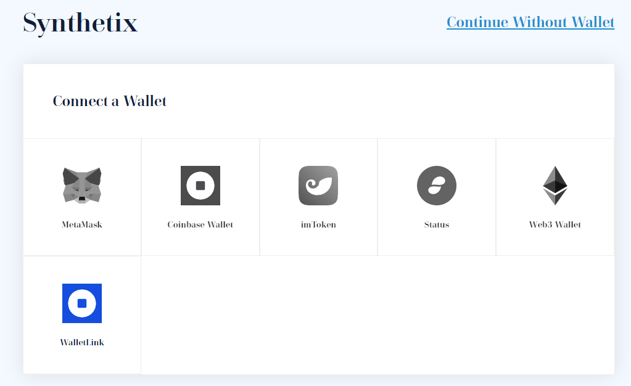 2. Upon connecting your wallet for the first time, your SNX holdings and sUSD debt will populate within 15 minutes. Select one or both permissions and click delegate. If you are returning to your dashboard, you will be taken directly to step #3.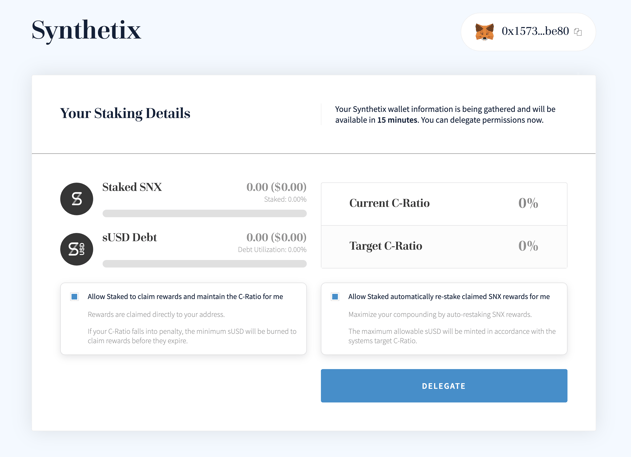 3. Congratulations! You should now see your holdings, c-ratio, claimed rewards, debt level, and permissions.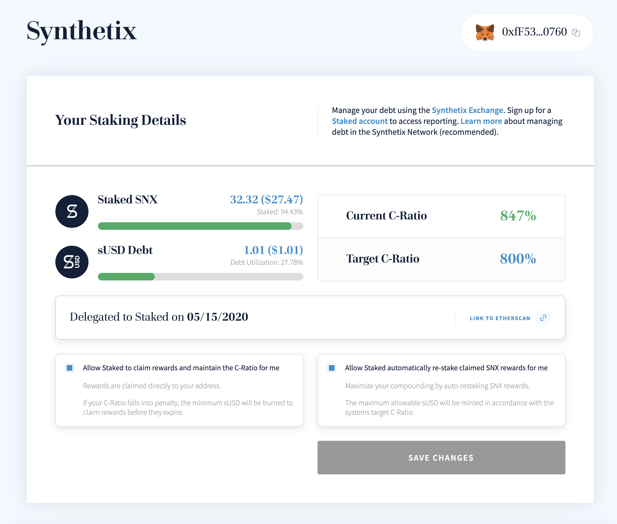 Please note that SNX holders will still need to use the Synthetix Mintr application for SNX staking, and the Synthetix Exchange for active debt management. To learn more about managing debt in the Synthetix Network, please read the following guide. For Synthetix rewards reporting, SNX stakers need to sign up for a Staked account.
Have questions? Get in touch with a Staked representative here or visit our landing page for FAQs.
---

About Staked
Staked helps institutional investors reliably and securely compound their crypto by 5% — 100% annually through staking and lending. Staked runs validation nodes for proof-of-stake currencies and offers access to on- and off-chain lending options that provide an annualized yield of in-kind currency. Staked's investors include Pantera Capital, Digital Currency Group, Coinbase Ventures, Winklevoss Capital, ParaFi Capital, Fabric Ventures, Global Brain, and other leading crypto investors.