Posted by
Staked
on Aug 12, 2020 8:22:32 AM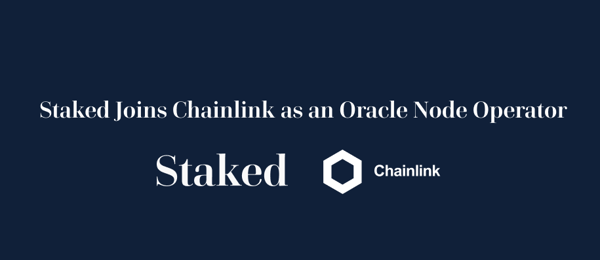 Staked is excited to announce that we have joined the Chainlink network as an oracle node operator. Staked's Chainlink node is live and actively providing reliable data feeds to over 25 DeFi applications built on Ethereum. We bring over three years of blockchain industry experience and provide secure backend infrastructure to power our Chainlink Node, further decentralizing and improving the security of the Chainlink Network. To view the Staked Chainlink oracle node operator, please visit the following link.
Chainlink is a decentralized oracle network that enables smart contracts to securely and reliably access off-chain data providers, web APIs, on-chain randomness, enterprise systems, cloud networks, IoT devices, payment systems, other blockchains, and much more. By doing so, smart contracts can use external data to trigger their on-chain logic, as well as send outputs to traditional systems such as executing a bank payment.
The Chainlink protocol provides high availability and tamper-resistance to the delivery of off-chain data to the smart contract, as well as hardens data sourcing against any single source manipulation. Chainlink is the leading provider of highly secure and reliable oracle infrastructure to large enterprises (Google, Oracle, and SWIFT), leading DeFi dApps (Aave, Synthetix, and Bancor), and numerous layer-1 protocols (Ethereum, Tezos, Polkadot / Substrate).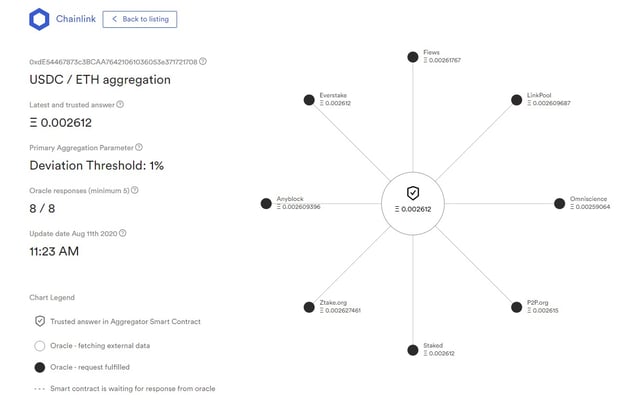 Regarding supporting Chainlink, Tim Ogilvie, Staked Co-founder & CEO, said, "Oracles have become critical infrastructure within the smart contract tech stack, allowing smart contracts to interface with real-world data and traditional infrastructure. Chainlink has emerged as the market leader in oracles for the DeFi ecosystem and beyond. Staked is excited to take part in this next evolution of smart contracts by operating as a Chainlink node operator to help further decentralize the network."
Staked is supported by a highly available and secure backend infrastructure. We use Kubernetes to distribute across five clouds with automated failover, and have never been slashed or had extended downtime in 3 years of operating POS blockchain nodes. Our technical infrastructure has been audited by security and DevOps teams at the leading protocols, exchanges, and custodians.
---

About Staked
Staked helps institutional investors reliably and securely compound their crypto by 5% — 100% annually through staking and lending. Staked runs validation nodes for proof-of-stake currencies and offers access to on- and off-chain lending options that provide an annualized yield of in-kind currency. Staked's investors include Pantera Capital, Digital Currency Group, Coinbase Ventures, Winklevoss Capital, ParaFi Capital, Fabric Ventures, Global Brain, and other leading crypto investors.
Website | Twitter | LinkedIn | Careers | Telegram
About Chainlink
If you're a developer and want to connect your smart contract to off-chain data and systems, visit the developer documentation and join the technical discussion on Discord. If you want to schedule a call to discuss the integration more in-depth, reach out here.
Chainlink is a general-purpose framework for building and running decentralized oracle networks that give your smart contract access to secure and reliable data inputs and outputs.
Website | Twitter | Reddit | YouTube | Telegram | Events | GitHub | Price Feeds | DeFi