Posted by
Staked
on Dec 18, 2020 6:04:23 PM
Seeking Yield by Staked - Issue 91: ⛓️ Tracking ETH2, 📰 Staked Media Mentions, 🎉 The Graph Network Mainnet, 🖥️ ETH Staking Webinar Recording, 📊 Current Staking and Lending Yields, & More

This is the ninety-first issue of Seeking Yield by Staked, a weekly update about the most interesting things happening in crypto asset staking and lending.

---
⛓️ Tracking Eth2
Over $1b worth of ETH has now been staked! Some stat on network progress:
ETH deposited to deposit contract: 1,552,961

Current staking yield:

14.4%

Active validators: 36,401
Pending validators: 11,771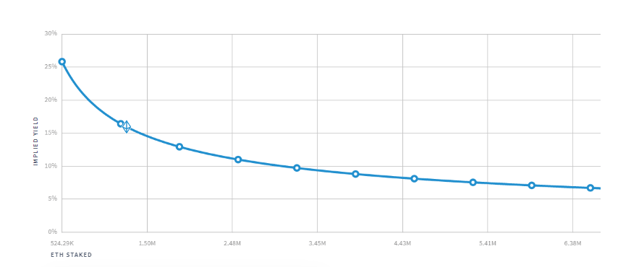 If you hold ETH and would like to learn more about staking, please reply directly to this email or submit your information below.
Learn more:
👉 Deposit to the deposit contract today to secure your spot
👉 Schedule time to speak with a Staked representative
👉 API documentation for launching lots of validators
👉 Sample code implementing the API
---
📰 Staked in the media
CoinDCX Set to Launch Liquid ETH-Backed Token for Users; Partners With US-Based Staked to Provide Staking Services
CoinDCX to launch Liquid ETH-backed token for users
U.S-based Staked, which provides non-custodial staking services for institutions and is the leading independent validator for Ethereum 2.0, is partnering with CoinDCX to support Ethereum 2.0 staking.
Tim Ogilvie – Co, CEO and co-founder of Staked said, "We are thrilled to extend our support to CoinDCX in such a way that the exchange's users can now take advantage of our staking infrastructure to participate in Ethereum's major upgrade."
Bitcoin Transaction Fees Doubled This Week. Here's Why
It is simply a case of more buying demand means more BTC transactions, which means higher fees, according to Tim Ogilvie, CEO of Staked, which provides institutions with infrastructure services for crypto assets.
So, when there's an exceptional amount of activity on the Bitcoin network, miners hike up their fees to prioritize those who really want to process Bitcoin transactions.
Base Layer Episode 195: Tim Ogilvie, Founder at Staked on helping to create the Fixed Income of Digital Assets
Tim joins me back on the show to update everyone Staked which for the last few years has been facilitating what I call the emergence of fixed income in Digital Assets. Essentially Staked helps investors earn yield from staking and DeFi without taking custody of crypto assets; some of the yields on the platform are high 10's and 20's. We talk about the how this works, what goes into staking and the emergence of ETH2 and why this is potentially a watershed moment.
---
🎉 The Graph Network Mainnet
The Graph Network mainnet is now live! This milestone paves the way for truly decentralized applications run a marketplace of service providers ensuring that data remains open and that dApps continue to run no matter what.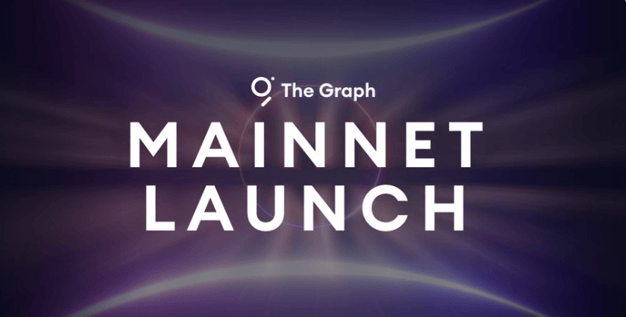 We are thrilled to support The Graph. Onwards and upwards!
---
🖥️ ETH Staking Webinar Recording
Earlier this week, Jonathan Marcus, Staked Co-founder & COO hosted an ETH staking webinar. The recording is now available.

---
📊 Current Staking Yields
Staked currently supports 30+ different proof of stake crypto assets including Ethereum, Cosmos, Polkadot, Algorand, Tezos, Dash, Orbs, Horizen, Livepeer, Factom, Terra, Kava, Cardano, v.systems, Secret Network, Edgeware, and Celo.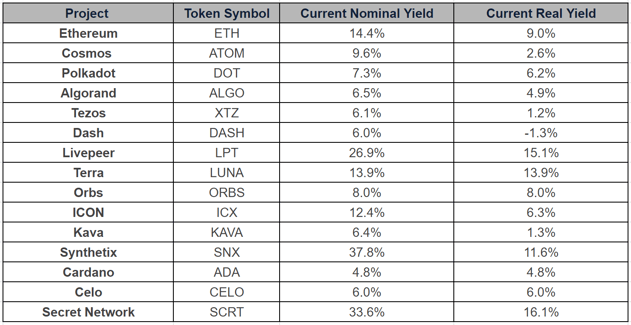 Learn more:
👉 Get in touch with a Staked representative about getting started!
---
📊 Robo-Advisor for Yield (RAY)
Currently live on the Ethereum mainnet, the Robo-Advisor for Yield (RAY) is the easiest way to earn the highest yield on your ETH, DAI, USDC, and BUSD holdings.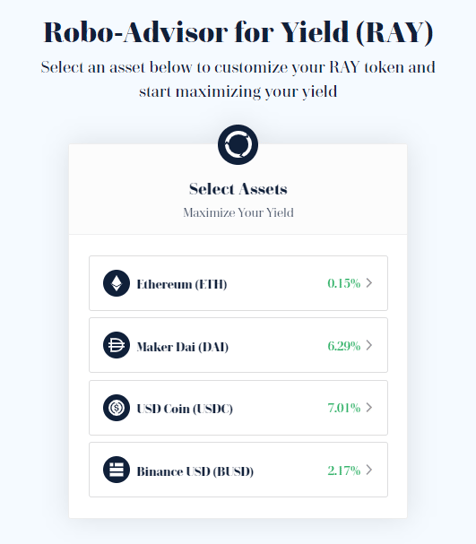 Learn more:
👉 Find time to speak with someone from the Staked team here.
---
📜 Developer Docs
Interested integrating the Robo-Advisor for Yield (RAY) and/or staking-as-a-service into your business today?
Integrating RAY is as simple as dropping in a few lines of code. Furthermore, partners looking to offer staking-as-a-service are able to integrate with our staking infrastructure directly through our API services.
Learn more:
👉 Staked Developer Documentation
👉 Reply to this email to speak with the Staked team about getting started today!
👉 Find time to speak with someone from the Staked team here.
---

About Staked
Staked helps institutional investors reliably and securely compound their crypto by 5% — 100% annually through staking and lending. Staked runs validation nodes for proof-of-stake currencies and offers access to on- and off-chain lending options that provide an annualized yield of in-kind currency. Staked's investors include Pantera Capital, Digital Currency Group, ParaFi Capital, Coinbase Ventures, Winklevoss Capital, Fabric Ventures, Global Brain, and other leading crypto investors.