Posted by
Staked
on Dec 4, 2020 3:57:00 PM
Seeking Yield by Staked - Issue 89: ⛓️ Tracking ETH2, 📰 Staked Media Mentions, 🖥️ Livepeer Explorer Update, 🌉 Secret Network Ethereum Bridge, 📊 Current Staking and Lending Yields, & More

This is the eighty-ninth issue of Seeking Yield by Staked, a weekly update about the most interesting things happening in crypto asset staking and lending.

---
⛓️ Tracking Eth2
The purpose of this section is to track the progress of Eth2 development.
ETH2 phase 0 went live earlier this week on December 1, 2020 at 12:00 UTC - a massive milestone for the entire Ethereum community. Some stats:
ETH deposited to deposit contract: 1,056,578

Current staking yield:

18.1%

Active validators: 30,706
Unique Eth1 addresses:

3,303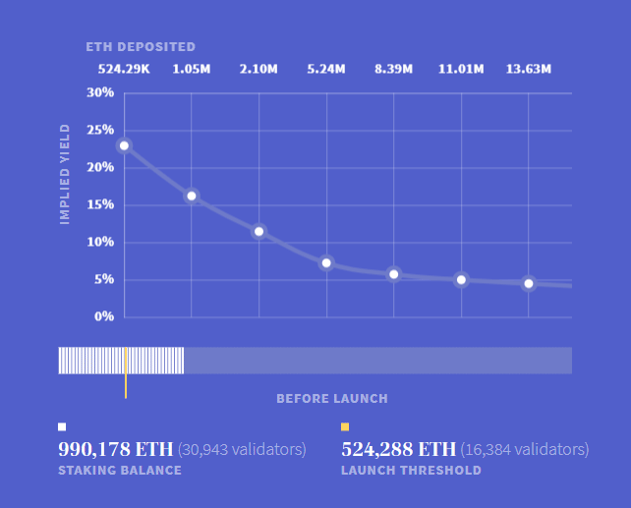 If you hold ETH and would like to learn more about staking, please reply directly to this email or submit your information below.
Learn more:
👉 Deposit to the deposit contract today to secure your spot
👉 Schedule time to speak with a Staked representative
👉 API documentation for launching lots of validators
👉 Sample code implementing the API
---
📰 Staked Media Mentions
Ether Capital Corporation Announces Initial Commitment to Staking on Ethereum 2.0
Publicly-Traded Ether Capital Begins Staking on an Ethereum 2.0 Node
Ether Capital Corporation ("Ether Capital" or the "Company") (NEO:ETHC) announces that it has begun participating in staking on the newly launched Ethereum 2.0 network and has committed to running a validator node on the network.
Ether Capital's validator has been running since Ethereum 2.0's genesis block which was confirmed at approximately 7:00am ET on December 1, 2020.
Brian Mosoff, Ether Capital's CEO, said: "The launch of Ethereum 2.0 is an exciting and historic milestone in the digital asset space and we are thrilled to be part of it by running a validator. The transition to staking has been part of Ether Capital's roadmap since inception and means that Ether holders are now able to generate an Ether-denominated return, or yield, by participating in network validation."
Ether Capital has entered into an agreement with Staked, an industry leading blockchain services provider, to run its Ethereum 2.0 validator.
Tim Ogilvie, Staked's CEO, said: "We are excited to be working with the team at Ether Capital on running its validator. Staked has built a reputation for ease and reliability for proof of stake services and we are grateful for the trust that Ether Capital has put in us."
"This rally is largely driven by institutional buy-in," said Tim Ogilvie, CEO of Staked, which provides institutions with infrastructure services for crypto assets. He pointed to hedge fund managers like Paul Tudor Jones and Stanley Druckenmiller including bitcoin in their broad investment strategies.
---
🖥️ Livepeer Explorer Update
The Livepeer explorer now includes a performance leaderboard for node operators. This update will provide greater visibility into validator performance.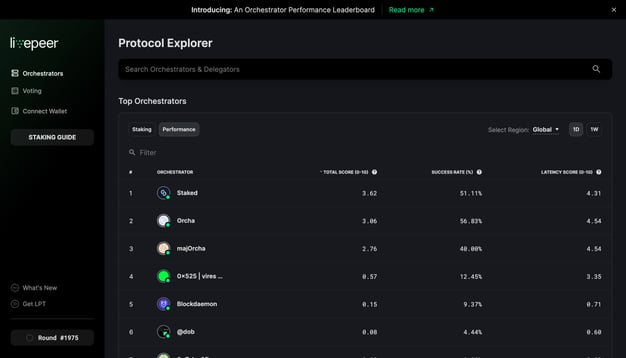 ---
🌉 Secret Network Ethereum Bridge
Launching December 14th, the Secret Ethereum Bridge is a new DeFi primitive that brings the power of programmable privacy to ETH and ERC-20s at low cost.

The bridge allows users to create synthetic (wrapped) ETH and ERC-20 tokens on Secret Network that can be used with full privacy, at lower cost. This is not only a huge improvement for privacy-conscious users of Ethereum and DeFi applications; it's a critical step along our path to building a more secure, more accessible, and more usable global open financial ecosystem.
We are excited to be a bridge operator and look forward to continuing to support the Secret Network.
---
📊 Current Staking Yields
Staked currently supports 30+ different proof of stake crypto assets including Ethereum, Cosmos, Polkadot, Algorand, Tezos, Dash, Orbs, Horizen, Livepeer, Factom, Terra, Kava, Cardano, v.systems, Secret Network, Edgeware, and Celo.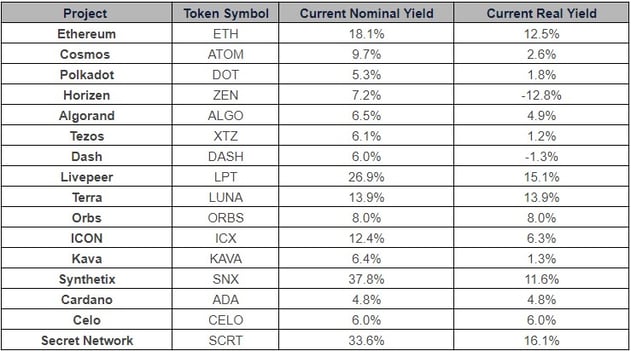 Learn more:
👉 Get in touch with a Staked representative about getting started!
---
📊 Robo-Advisor for Yield (RAY)
Currently live on the Ethereum mainnet, the Robo-Advisor for Yield (RAY) is the easiest way to earn the highest yield on your ETH, DAI, USDC, and BUSD holdings.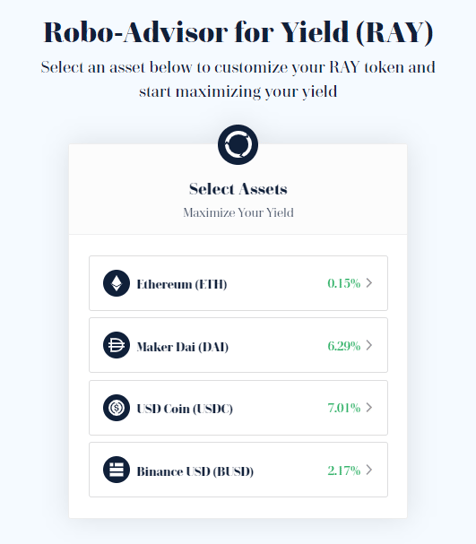 Learn more:
👉 Find time to speak with someone from the Staked team here.
---
📜 Developer Docs
Interested integrating the Robo-Advisor for Yield (RAY) and/or staking-as-a-service into your business today?
Integrating RAY is as simple as dropping in a few lines of code. Furthermore, partners looking to offer staking-as-a-service are able to integrate with our staking infrastructure directly through our API services.
Learn more:
👉 Staked Developer Documentation
👉 Reply to this email to speak with the Staked team about getting started today!
👉 Find time to speak with someone from the Staked team here.
---

About Staked
Staked helps institutional investors reliably and securely compound their crypto by 5% — 100% annually through staking and lending. Staked runs validation nodes for proof-of-stake currencies and offers access to on- and off-chain lending options that provide an annualized yield of in-kind currency. Staked's investors include Pantera Capital, Digital Currency Group, ParaFi Capital, Coinbase Ventures, Winklevoss Capital, Fabric Ventures, Global Brain, and other leading crypto investors.