Posted by
Staked
on Nov 13, 2020 3:56:54 PM
Seeking Yield by Staked - Issue 87: ⛓️ Tracking Eth2, 📰 Staked Media Mentions, 🖥️ ETH Staking Webinar, 📊 Current Staking and Lending Yields, & More

This is the eighty-seventh issue of Seeking Yield by Staked, a weekly update about the most interesting things happening in crypto asset staking and lending.

---
⛓️ Tracking Eth2
The purpose of this section is to track the progress of Eth2 development.
The Eth2 deposit contract is now live. Some stats:
ETH deposited: 62,016
Time until minimum genesis time: ~17 days 15 hours
Unique Eth1 addresses: 332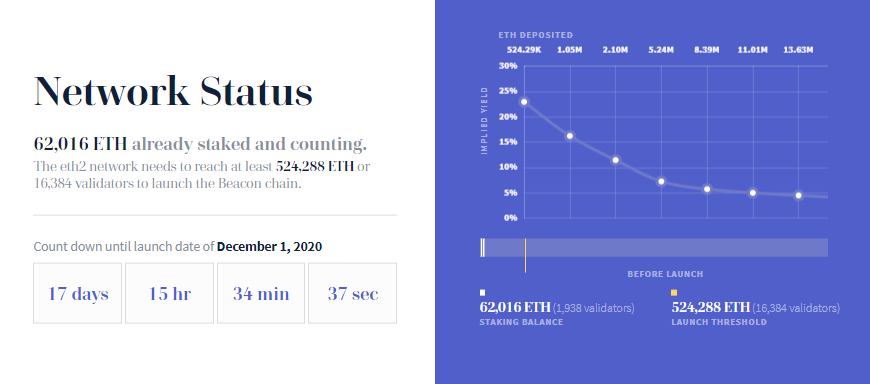 If you hold ETH and would like to learn more about staking, please reply directly to this email or submit your information below.
Learn more:
👉 Deposit to the deposit contract today to secure your spot
👉 Schedule time to speak with a Staked representative
👉 API documentation for launching lots of validators
👉 Sample code implementing the API
---
📰 Staked Media Mentions
Stakers need to weigh the complexity of running nodes on a major chain with the risk of being slashed for failing to stay up persistently or for other issues such as double-signing. Ethereum 2.0 staking requires the commitment and hassle of maintaining a node for years. Those inclined to support network security and earn steady yield may still shy away from the obligations of regularly tending to their servers.
That's where staking-as-a-service providers come in – and again people have choices to make. As with many areas of cryptocurrency, a core decision is whether to give up your asset to a provider, or to choose a non-custodial service instead. At my company, Staked, we believe investors should have help in earning yield without having to give up custody of their assets.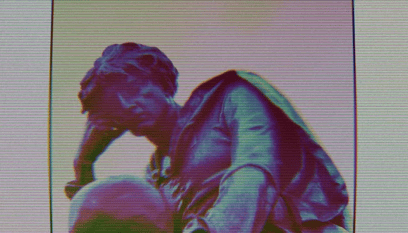 Decrypt: Ethereum 2.0 Is Set to Launch, But It Won't Be Ready to Use
Ogilvie said that the most aggressive estimates for Phase 1 is six months and two years for Phase 2. "The more conservative estimates are significantly longer than that. So you're talking years before you have a full transition from ETH 1.0 to ETH 2.0."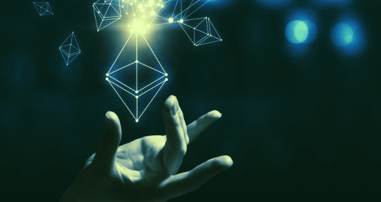 ---
⚖️ The Graph Network Governance
On Thursday, November 19, 2020 at 12 pm EST, Jonathan Marcus, Staked Co-founder & COO, will be hosting an ETH staking webinar. Jonathan will be doing a deep dive on ETH staking, covering everything a network participant needs to know.
Topics that will be covered during the webinar:
How to stake ETH with Staked

The role a node plays in securing the Ethereum network

The returns available from ETH staking

ETH 2.0 timeline and important dates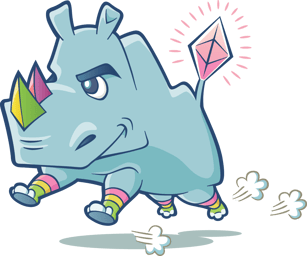 ---
📊 Current Staking Yields
Staked currently supports 30+ different proof of stake crypto assets including Cosmos, Polkadot, Algorand, Tezos, Dash, Decred, Orbs, Horizen, Livepeer, Factom, Iris, Terra, Kava, Cardano, v.systems, Secret Network, Edgeware, and Celo.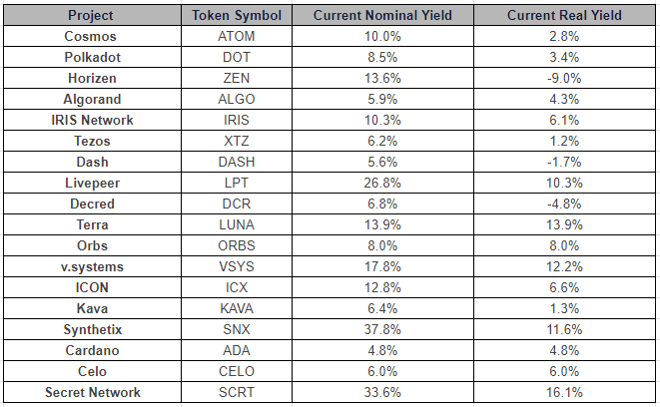 Learn more:
👉 Get in touch with a Staked representative about getting started!
---
📊 Robo-Advisor for Yield (RAY)
Currently live on the Ethereum mainnet, the Robo-Advisor for Yield (RAY) is the easiest way to earn the highest yield on your ETH, DAI, USDC, and BUSD holdings.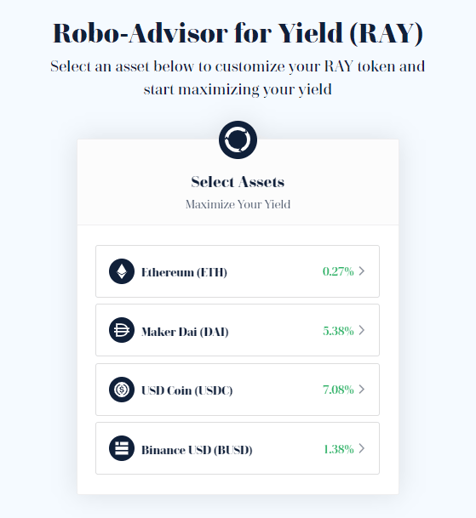 Learn more:
👉 Find time to speak with someone from the Staked team here.
---
📜 Developer Docs
Interested integrating the Robo-Advisor for Yield (RAY) and/or staking-as-a-service into your business today?
Integrating RAY is as simple as dropping in a few lines of code. Furthermore, partners looking to offer staking-as-a-service are able to integrate with our staking infrastructure directly through our API services.
Learn more:
👉 Staked Developer Documentation
👉 Reply to this email to speak with the Staked team about getting started today!
👉 Find time to speak with someone from the Staked team here.
---

About Staked
Staked helps institutional investors reliably and securely compound their crypto by 5% — 100% annually through staking and lending. Staked runs validation nodes for proof-of-stake currencies and offers access to on- and off-chain lending options that provide an annualized yield of in-kind currency. Staked's investors include Pantera Capital, Digital Currency Group, ParaFi Capital, Coinbase Ventures, Winklevoss Capital, Fabric Ventures, Global Brain, and other leading crypto investors.