Posted by
Staked
on Nov 6, 2020 5:06:15 PM
Seeking Yield by Staked - Issue 86: ⛓️ Tracking Eth2, 📈 Elrond Mainnet Milestones, ⚖️ The Graph Network Governance, 📊 Current Staking and Lending Yields, & More

This is the eighty-sixth issue of Seeking Yield by Staked, a weekly update about the most interesting things happening in crypto asset staking and lending.

---
⛓️ Tracking Eth2
The purpose of this section is to track the progress of ETH 2.0 development.
Our Eth2 offering will be available on the Staked website early next week. If you hold ETH and would like to learn more about staking, please reply directly to this email or submit your information below.
Learn more:
👉 Contact a Staked representative about staking ETH
👉 API documentation for launching lots of validators
👉 Sample code implementing the API
---
📈 Elrond Mainnet Milestones
The Elrond network has seen tremendous growth over the last few months.

Some impressive milestones since genesis:
The Elrond mainnet is only 100 days old and has already surpassed 1 million transactions from 40,000 accounts!

There are now more than 2,000 validators supporting the Elrond network (10 are operated by Staked!).

50% of the eGold (the native Elrond token) supply is locked for staking with yields between 10% to 36% APR.

Launched the Elrond IDE, making it easier than ever to deploy DeFi and Web3 apps to the Elrond blockchain.
We are thrilled to support Elrond and look forward to continued success. Stay tuned for Elrond staking opportunities for Staked customers!
Learn more:
---
⚖️ The Graph Network Governance
The Graph core team recently published an excellent blog post describing The Graph's governance. Per the post, The Graph's decentralized network will be governed by The Graph Council at launch.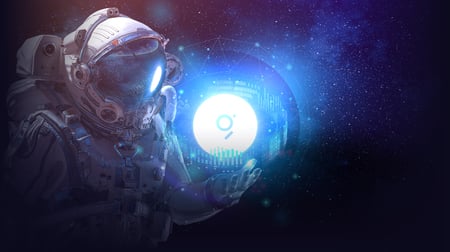 This council will be a 6-of-10 multisig that balances the interests of five core stakeholder groups: Indexers, active token holders, the initial team, users and technical domain experts.
Learn more:
👉 Get in touch with a Staked representative about The Graph Network staking
---
📊 Current Staking Yields
Staked currently supports 30+ different proof of stake crypto assets including Cosmos, Polkadot, Algorand, Tezos, Dash, Decred, Orbs, Horizen, Livepeer, Factom, Iris, Terra, Kava, Cardano, v.systems, Secret Network, Edgeware, and Celo.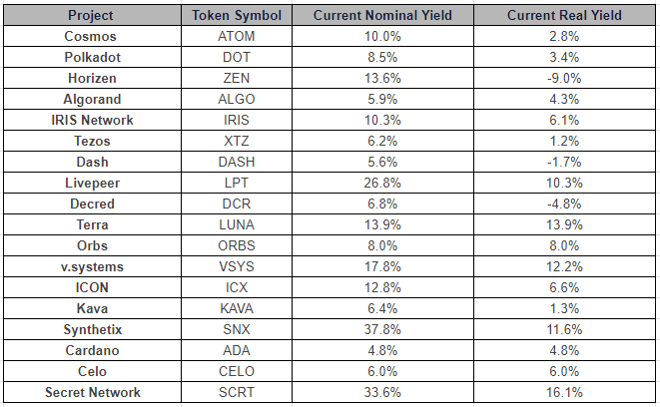 Learn more:
👉 Get in touch with a Staked representative about getting started!
---
📊 Robo-Advisor for Yield (RAY)
Currently live on the Ethereum mainnet, the Robo-Advisor for Yield (RAY) is the easiest way to earn the highest yield on your ETH, DAI, USDC, and BUSD holdings.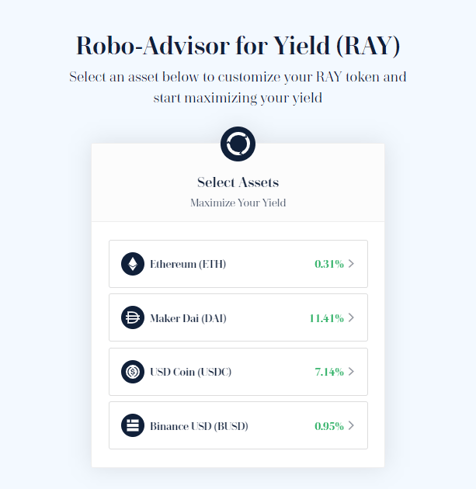 Learn more:
👉 Find time to speak with someone from the Staked team here.
---
📜 Developer Docs
Interested integrating the Robo-Advisor for Yield (RAY) and/or staking-as-a-service into your business today?
Integrating RAY is as simple as dropping in a few lines of code. Furthermore, partners looking to offer staking-as-a-service are able to integrate with our staking infrastructure directly through our API services.
Learn more:
👉 Staked Developer Documentation
👉 Reply to this email to speak with the Staked team about getting started today!
👉 Find time to speak with someone from the Staked team here.
---

About Staked
Staked helps institutional investors reliably and securely compound their crypto by 5% — 100% annually through staking and lending. Staked runs validation nodes for proof-of-stake currencies and offers access to on- and off-chain lending options that provide an annualized yield of in-kind currency. Staked's investors include Pantera Capital, Digital Currency Group, ParaFi Capital, Coinbase Ventures, Winklevoss Capital, Fabric Ventures, Global Brain, and other leading crypto investors.