Posted by
Staked
on Aug 28, 2020 3:52:13 PM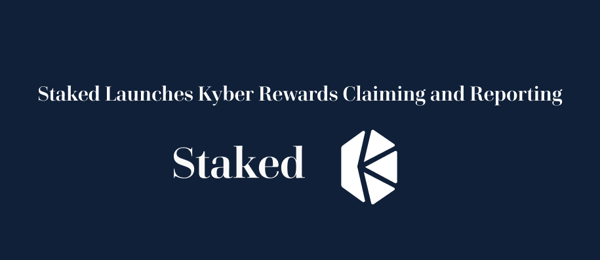 Staked announced today the release of Kyber rewards claiming and reporting for KNC delegates of Staked's Kyber stakepool. KNC stakers currently earn 65.3% of the fees generated from trading on the Kyber Network, or approximately 350 ETH per 2 week epoch period, in exchange for voting on governance proposals.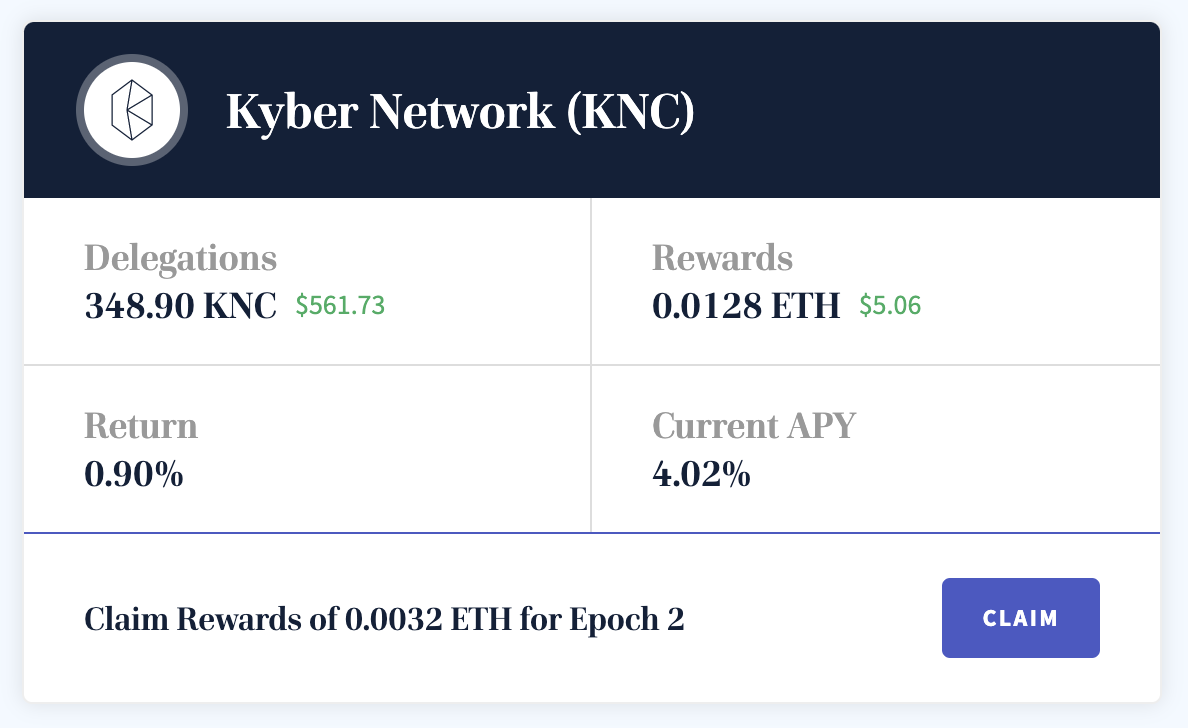 To set up Kyber rewards claiming and reporting, create a Staked account here. Next, click on Kyber from the token grid on the Setup Reporting page, and add the ETH public address used to delegate voting power to the Staked stakepool in the address input field. After clicking on the Add button, you will be redirected to Staked's Reporting Summary.
If you already have a Staked account and are logged in, hover over the person icon in the upper right hand navigation, click on Holdings from the drop-down, and then add the ETH public address used to delegate to Kyber in the token grid.
To claim your rewards for Epoch 1, 2 and 3, click on the Claim button for the corresponding epoch. When claiming rewards, make sure you are connected to the ETH address used for delegation to Staked, or the claim rewards transaction will fail. Rewards for epochs 1 - 3 will each need to be claimed separately.
Equally as importantly, we recently deployed an upgraded stakepool that enables delegates to claim rewards for all outstanding epochs in a single rewards claim transaction to save on gas costs.
To delegate to the upgraded stakepool, visit http://kyber.org, click on My Stake in the upper right hand navigation, and enter the following ETH address in the Delegate's ETH Address field and click on the Delegate button:
0xe2Db444968A9D01F3473c065b8ece86838F0D8e5
Please make sure to update your delegation to the new stakepool before Epoch 4 ends on September 7th, 2020. Staked will stop voting and claiming on the old stakepool on this date.
** For details on how redelegation will impact your rewards (for the epoch in which you redelegate), please refer to the Kyber team's walk through examples on voting power. In summary, you will not be eligible to earn rewards for the one epoch in which you redelegate. You will earn rewards by voting for the following epoch (n +1), and will be able to claim rewards for that epoch and all epochs going forward.
---

About Staked
Staked helps institutional investors reliably and securely compound their crypto by 5% — 100% annually through staking and lending. Staked runs validation nodes for proof-of-stake currencies and offers access to on- and off-chain lending options that provide an annualized yield of in-kind currency. Staked's investors include Pantera Capital, Digital Currency Group, Coinbase Ventures, Winklevoss Capital, ParaFi Capital, Fabric Ventures, Global Brain, and other leading crypto investors.